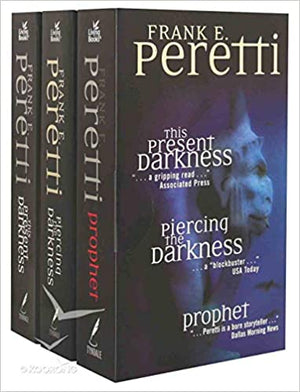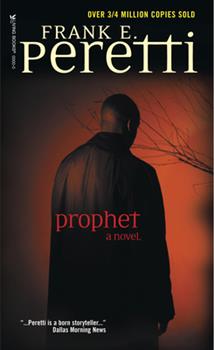 (Set of 3) (Prophet - This Present Darkness - Piercing The Darkness)
This set includes the following 3 books: This Present Darkness, Piercing the Darkness, and The Prophet.

Over 5 million sold of these three supernatural thrillers from bestselling author Frank Peretti!

Three of Frank Peretti's best-selling works of fiction, are now available at an unbelievably low price! All three pocket-sized paperback editions of Peretti's favorite spiritual thrillers are encased in a giftable slipcase and shrink-wrapped for easy display.

This present Darkness: Ashton is just a typical small town. But when a skeptical reporter and a pastor begin to compare notes, they suddenly find themselves fighting a hideous plot to subjugate the townspeople--and eventually the entire human race. A riveting thriller, This Present Darkness offers a fascinating glimpse into the unseen world of spiritual warfare.

Piercing the Darkness: This sequel to This Present Darkness follows the supernatural battle over the small town of Bacon's Corner, where, once again, armies of angels and demons are at war. Sally Beth Roe is trying to escape her past and struggling to find the truth, while Tom Harris finds himself embroiled in a battle to save a Christian school threatened by outside forces.

The Prophet: A thriller that penetrates to the very heart of a vast struggle that threatens to tear our society apart. Successful news anchorman John Barrett is caught in a suspenseful moral and spiritual battle over the importance of Truth. Using all the elements of edge-of-your-seat fiction, master storyteller Frank Peretti weaves a prophetic tale of our times.